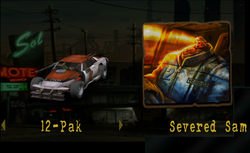 12-Pak
was a new, unlockable vehicle featured in
Twisted Metal: Lost
. This vehicle can be unlocked by beating the game on Normal.
A prized stock car, which has the same stats as Spectre and its special weapon is similar to reticle pick-up from Twisted Metal: Black.
Driver: Severed Sam
Vehicle Type: Stock Car/1975 Chevrolet Chevelle
Special Weapon: Reticle: Hit the fire button once to activate a countdown. Hit the fire button again to release the missiles. A flaw occurs when shooting missiles. If you want to switch to another character, all the missiles you shoot will revert back to one.
Trivia
12-Pak, ATV, Brimstone, Calypso, Club Kid, Cousin Eddy, Crazy 8, Create Car, Crusher, Death Warrant, Drag Queen, Dragula, Firestarter, Flower Power, Goggle Eyes, Gold Tooth, Juggernaut, Kamikaze, Manslaughter, Meat Wagon, Meter Maid, Micro Blast, Mime, Moon Buggy, Mr. Zombie, Orbital, Piecemeal, Pit Viper, Pizza Boy, Primeval, Quatro, RC Car, Reaper, Road Boat, Talon, The Joneses, Tower Tooth, Trapper, Trash Man and Vermin are the only playable vehicles to have so far been in only one Twisted Metal game, but this may not count since Twisted Metal Black: Harbor City was cancelled, though a small portion of it was made playable in Twisted Metal: Head-On: Extra Twisted Edition as Twisted Metal Lost.
12-Pak is similar to Crazy 8, as both are race cars that have numbers in their names and both of their drivers lost body parts related to their heads (Severed Sam lost his entire head, while No-Face lost only his eyes and tongue).
12-Pak had three different colors in its concept art as seen on Sweet Tour Mode.
Community content is available under
CC-BY-SA
unless otherwise noted.