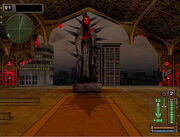 The
Abandoned Skyscrapers
is a level featured in
Twisted Metal: Black
. The level is fairly large.
Like previous levels in Twisted Metal games, the Abandoned Skyscrapers is a level that is risky in that it provides an "instant death" to the player if he/she should fall off the ledge of a building. 8 opponents are battled here.
Music tracks: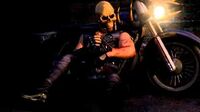 Features
Not much is known about the Abandoned Skyscrapers, or why they are abandoned in the first place. Many of the skyscrapers in the background appear to be crumpled and dilapidated, some with smoke coming out of them.
There is a crashed 747 airplane on one of the rooftops, which is actually quite large if one compares its size to that of the vehicles driven. There is also a cathedral north of the plane wreck, and can be crashed into, breaking a large section of the roof as well as stained glass. East of the cathedral is a circular rooftop that consists of fan vents that provide another "instant death" factor. South of this building is a lower rooftop that seems to be going under demolition, as there is a wrecking ball, which can also push the player off the edge if not careful.
Secrets
Unlocking Sewers: This black cube is between the lowest skyscraper with the crashed plane and the building with the billboard. Yes, you read that right, to unlock this level you must sacrifice a life or two (If you mess up the first time). The best method is to pick a reasonably fast car (Roadkill or Spectre for instance), stay still on the billboard, face the tall white skyscraper next to the two small buildings, and then drive with the turbo on.
Trivia
The cathedral and the round skyscraper are missing in multiplayer mode, but there is an additional slope that connects the tallest skyscraper to one of the smaller buildings.