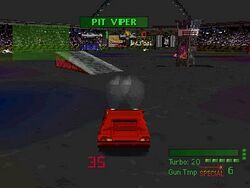 Arena Duel is the first level of Twisted Metal (1995).
It's 3 in the morning and the city is wide awake! Welcome to Calypso's Nightclub, an underground arena where you and a single enemy face off for the right to compete in the contest!
Music tracks: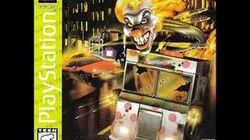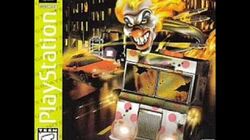 Trivia
One can see Calypso behind a glass window, watching over the battle, surrounded by women.
Some of the posters in the arena advertise for High Octane, the original name for Twisted Metal.
This level can be played with 5 other contestants. It is accessed through a cheat code.
This level is the only non-boss level in the entire series, where in Story Mode, you face off against only one opponent.