Bruce Cochrane is one of the original characters introduced in the Twisted Metal series. He makes his first appearance in Twisted Metal (1995). He is the first and primary driver of Thumper, until the later games in the series.
A passionate kid from the streets of LA. He's got one last shot at taking his neighborhood out of the war zone.
Vehicle: Thumper
Ending:
Bruce has fought all his life for the dignity of his friends and family. But no matter how hard he fights, he can never win. This year he's asking for revenge on all those who have kept him down. But what he gets is Hell on earth.
Vehicle: Thumper
Info: Male
Age: 30
Born: Los Angeles
"For the last 10 years, I fought on the streets of L.A. Fought for my friends, my pride, my own survival. This year, I'm heading straight outta South Central and taking on the world. This time, I'm fighting for a hell of a lot more."
Ending: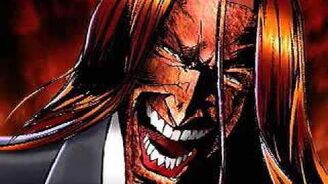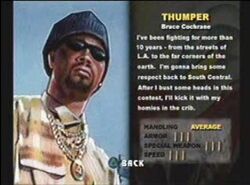 Bruce grew up in da hood. He drives a bulky pink low rider with some hip-hop hydraulics and window-rattling bass. Bruce is a Twisted Metal veteran, so he just wants to keep it real by beating down his opponents then kicking back in his crib.
Vehicle: Thumper
Info: Male
Age: 33
Born: Los Angeles, California
"I've been fighting for more than 10 years - from the streets of L.A. to the far corners of the earth. I'm gonna bring some respect back to South Central. After I bust some heads in this contest, I'll kick it with my homies in the crib."
Wish: To hang with his homies.
Info and Ending: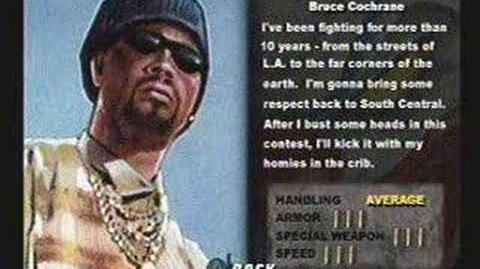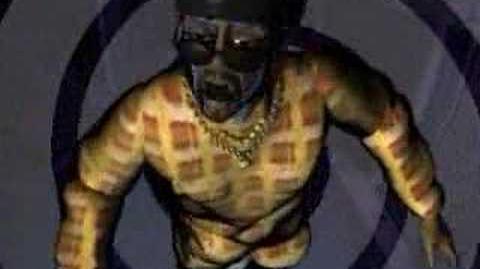 Main article: Vinnie & Bruce
Quotes
Twisted Metal (1995) (Lost Ending):
"You know the deal, Calypso! I signed your contract. Let's get this over with!"
"I told you before! I was done doing your hits for you."
"Cross me again, it's over."
"Thanks, Calypso."
Trivia
The character of Bruce Cochrane may possibly be named after Bruce Cochrane, one of the testers of the original Twisted Metal game.
In Bruce's Lost Ending in TM(1995) game, there is another man in his car with him. It is possible that he is Vinnie from Twisted Metal: Small Brawl, partnering alongside with Bruce while driving Thumper, although this has never been confirmed nor denied.