"The Valley of the Kings.. the ancient rulers of the Nile never would have dreamed that one of the greatest battles of all time, would take place on top of their tombs! Be careful not to wake the Pharaoh. His wrath packs a particularly nasty punch."
—Calypso, Twisted Metal III
Egypt is the seventh level in Twisted Metal III and the fourth level in Twisted Metal Head-On.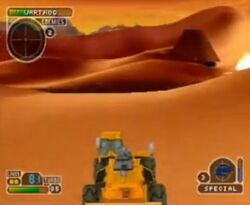 Nothing makes those sand dunes glitter like Twisted Metal and
machine gun
casings. Help those mummified pharaohs roll over in their graves by roaring through the landscape and raiding a tomb or two. Take a moment to rearrange the Sphinx's mug and discover who those crafty Egyptians really carved.
Their are 2 secret weapons here; Lightning, which cause powerful electrocutions in the Temple room located across from the pyramid, and the Eye. First you place a small pyramid, and when enemies come close to it, "detonate" it, and the pyramid will shoot a powerful laser at the small pyramid you placed, damaging all nearby enemies.
Music track: