Firestarter is a vehicle that only appears in Twisted Metal III.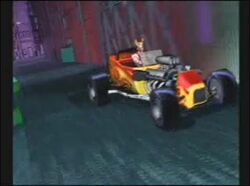 Vehicle: 1923 Ford T-Bucket / Firestarter
Driver: Damien Coles
Vehicle Type: Hot Rod
Handling: Tight
Armor: 2/5
Special Weapon: 3/5
Flamethrower: A giant flame thrower that scorches its victims to crispy-coated perfection.
Speed: 4/5
Trivia
Firestarter is one of the vehicles who borrowed from Thumper's original flamethrower Special Weapon. The others include Drag Queen, Warthog (Black), Cousin Eddy, Kamikaze and Crimson Fury (2012).
Other than a pure desire to add new vehicles, it is unknown why exactly Firestarter was added to TMIII's roster, considering Thumper was already included and Firestarter contained its original Special Weapon.
Darkside's flamethrower in TMIII is very identical to Firestarter's, except the flames are larger and more damaging, and a Freeze Missile is simultaneously fired along with it.
Firestarter shares the exact same vehicle stats (Armor, Special Weapon power, and handling) with Club Kid and Flower Power.
Firestarter is the oldest vehicle model in the series.
Community content is available under
CC-BY-SA
unless otherwise noted.