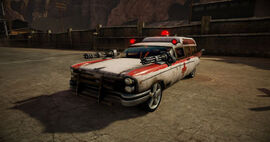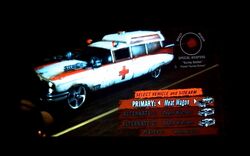 Meat Wagon is a vehicle featured in Twisted Metal (2012). Meat Wagon is a 1959 Cadillac Ambulance and has a rather humorous, yet creative, special weapon: a terminally-ill patient strapped with TNT on a rocket propelled gurney.
Meat Wagon's primary special attack is a homing gurney, which can be launched from the front or behind. The secondary special is similar, however, the player can guide the gurney manually to hit a target where it will detonate on impact or remotely detonate it to inflict splash damage.
Meat Wagon is unlocked by completing Mr. Grimm's first event in Story Mode.
Vehicle: 1959 Cadillac Ambulance Miller-Meteor Futura
Vehicle Type: Ambulance
Speed: 2/5 (65/130 mph)
Armor: 3/5 (210 Hit Points)
Special Weapons: 3/5
Gurney Bomber (40 Points), Piloted Gurney Bomber (90 Points)
Trivia
"Meat Wagon" is a slang term for ambulance. It stems from the fact that early ambulances, which were based on car chassis rather than a van chassis, often had a high death rate due to the fact that medical equipment back then was primitive compared to the medical equipment standard on today's medical ambulances.
It's very likely that Meat Wagon is a tribute to "Ozone", a vehicle featured in the 1998 car combat game "Rogue Trip: Vacation 2012" (developed by SingleTrac), which was also an 1960's Miller Meteor ambulance.
Coincidentally, Meat Wagon shares the same name of the "Oscar Mayer"-esque hot dog truck vehicle also featured in "Rogue Trip: Vacation 2012".
It strongly resembles the Ecto-1 from the Ghostbusters movies.
According to some early concept art, Meat Wagon was originally set to be a modern-day medical ambulance. It is unknown why the change was made. It's possible that the original body shape would've been too similar to Sweet Tooth.
Though most of Meat Wagon is based off the  1959 Cadillac Ambulance Miller-Meteor Futura, the front of meat wagon resembles the 1965 Cadillac Ambulance.
Meat Wagon and Road Boat have the same amount of health (210 HP).
Community content is available under
CC-BY-SA
unless otherwise noted.