Minigolf Mayhem is the fourth level in Twisted Metal: Small Brawl.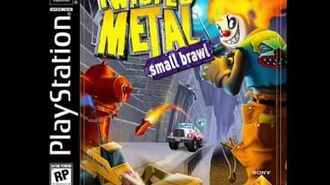 Wish you could be the best professional golfer around? Well, everyone has to start somewhere and what better place than the miniature golf course? But this isn't your ordinary course. Watch out for the erupting volcano, protruding spikes and other jungle-themed obstacles.
This level is usually a medium sized battlefield that is used for down 'n' dirty car combat fun with the CPU's. This level has four holes that you can put the golf balls in to get power ups.
Level Environment
When the environment is activated: The volcano shoots out fireballs around it, dealing damage to either you (If you are close to it), or your opponents thus sending them into flames. Golf balls can be knocked into their holes to gain power ups.
Hole 1: Between Volcano & Tiki Village
Hole 2: In the "No Swimming" Area
Hole 3: On an ancient hill by the Giant Spider
Hole 4: In Tiki Village
Obstacles
Giant Spider (near volcano): Deals damage when you touch it.
Mouth Crusher (in Tiki village): If upper lip comes down on you, damage will be dealt..
Tiki Spears (in Tiki village): If they come down on you, some damage will be dealt if you stay under for too long.
Boss
After defeating the 4 opponents here, the level becomes smaller and you must battle Trapper before moving on to Meat Your Maker.
Trivia
About half of the stage becomes off-limits during the battle against Trapper. This occurs only in Tournament Mode.
Rumor has it that there's a replica of Billy Calypso in a big black pot.
This level maybe partially inspired by the Amazonia levels of Twisted Metal 2 and 4.