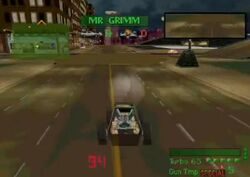 River Park Rumble is the fourth level featured of Twisted Metal (1995).
Welcome to Beverly Hills! Try to take down 6 enemy vehicles while the 'beautiful people' run for cover! Ya know, come to think of it, take down some of the beautiful people while you're at it!
Music tracks: 
Trivia
This level features an ice-skating rink that can make your vehicle lose traction if driven on. There is also an ice-skating pedestrian that can be run over.
There is a Santa Claus pedestrian that can be run over as well.
There are "No Entry" type signs on the buildings, shoot them for a tunnel through the buildings.
This level would later inspire Downtown, as both are designed similarly.