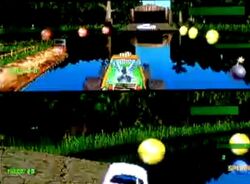 Suicide Swamp is a secret stage in Twisted Metal 2. It is a direct copy of the Suicide Swamp level from Jet Moto, another game published by SingleTrac. In this level, you are still able to collect the available orbs. However, they have no effect, and are purely for looks and amusement.
Twisted Metal 2
This level is unlockable by entering ↑ ↓ → R1 at the track selection screen for a two player challenge match.
The music track for this level is the same as from Holland.