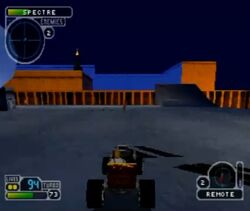 "Oh, how I love the rooftops of Tokyo! Such a high-tech city. It's too bad the volcano erupted and flooded the streets. Have a nice time, and be sure to check out what's on the satellite."
—Calypso, Twisted Metal III
Tokyo is the sixth level in Twisted Metal III and a similar level can be played in Twisted Metal: Head-On.
Tokyo hasn't seen this much action since the great green goliath smacked a mutated moth around the city streets. You may be one tenth his size, but you have a slew of weapons that can total a building as fast as his footstep. Roar across rooftops and use the radar dish to vaporize your opponents.
There is a special weapon called the Radar that can do massive damage to enemies if it hits. Be careful you're not the one it's aiming for before firing. There's also a large spinning fan in one part of the map- falling through means instant death, for both you and your enemies. Use it to your advantage.
Tokyo has four different parts in this game.
Music tracks: