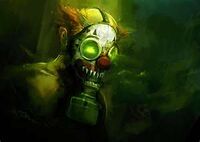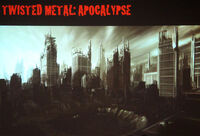 As one of several lost installments of the Twisted Metal series, Apocalypse was to feature a post-apocalyptic environment dominated by Calypso's tournament. Characters would have included:
Other character concepts may have been conceived, but are vague in nature. At this point, very few images or notes exist from the early development of the game, but the names 'Razorback' and 'Rusty' have been associated (if not necessarily connected) to the game, as well as early versions of the Talon helicopter now found in the upcoming 2012 release.
Locales are likewise hazy, with a couple of screen shots having survived the game's developmental death. Among these is a view of a ruined Mount Rushmore, as well as a crumbling city skyline.
The developmental process of Apocalypse was likely slain by the tragic death of six members of the creative team in an airplane crash, but their notes survived, albeit under lock and key at Eat, Sleep, Play. The continued use of concepts taken from Apocalypse, such as the Talon helicopter and a gang led by Mr.Grimm, offers hope for the game's future.
As the game was only in the conceptual phase, an actual story was never officially established, and endings are likewise a mystery. It was, however, alluded that the Apocalypse was a result of Sweet Tooth wishing for 'paradise'.
Recently, it was revealed that the concept for Apocalypse eventually evolved into Twisted Metal PS3, after a member of the remaining developmental team stated that he was 'not down with the post-apocalyptic vibe.'
Some characters were to have newer appearances, while some were tweaked slightly. For instance, Thumper was now a suit-clad businessman, while Mr.Grimm wore a leather jacket over a hoodie. The drivers of Outlaw wore heavier gear similar to Agent Stone, and Needles wore a gas mask based on his mask from TM: Black.
With its eventual evolution into the upcoming PS3 installment of the series, Apocalypse may have included early versions of the new sniping ability and possibly an ancestor of Nuke Mode.